Every year, across the country, millions of college students graduate. Many have their sights set on what this world values most, and they make it their mission to pursue them.
But what if these students were embarking on the mission of God? What if they were "on mission" to make the world more how God intended it to be, helping people everywhere be restored to a relationship with Jesus?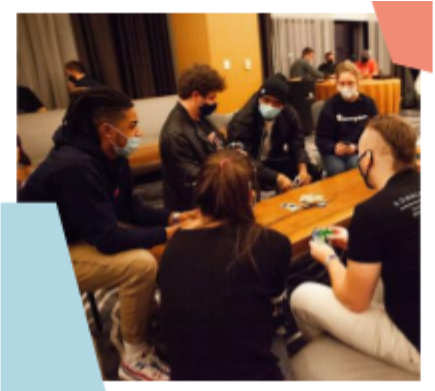 That's Cru's mission: to see lifelong laborers for Christ raised up and sent to the world to proclaim the good news of Jesus. Winter Conference is one place where, time and again, we have seen students grasp a greater vision for their lives.
This past December, four cities hosted a total of 2,536 students for Winter Conferences. A virtual winter conference also happened in February for thousands more students who live further from these 4 cities. Rochelle and I and Josh attended this online conference and we were encouraged by what God is doing around the world and on our US campuses.
We worshiped King Jesus together. We were challenged by the Word of God as our speakers called us to a life more in line with the Scriptures. Students were equipped to share the good news of Christ in each of the four cities that hosted a Winter Conference. They were sent out to take steps of faith and initiate spiritual conversations. Through those that were sent out during the conference to communities around them, 41 people who heard the gospel indicated decisions for Jesus!
While each student experienced Jesus in a personal and unique way, here are a few of the things they shared from the week:
"I have a new passion for sharing the gospel and a reignited passion for God's Word. I feel so encouraged going into the new year and ready to step out onto campus being a light for Christ." -Anonymous
"Before coming I had felt very distant from God and felt like I was becoming a lukewarm Christian. This renewed my faith!" -Faith, junior
"I literally became a Christian today." -Nate, senior
"I was greatly challenged at the outreach and was so excited to see my team taking steps of faith together. While I was sharing what Jesus means to me, I realized I was doing what scared me so much, and it was actually very fun to just get to chat with people! It gave me a new perspective on evangelism!" -Bethany, senior
"I am eager to go out and do what God has called me to." -Ayana, sophomore
We rejoice for the awesome ways God is at work in students' lives. He is changing hearts and raising up lifelong laborers for the Kingdom of God. Thank you so much for your partnership, your prayers, and your generosity that make that possible!