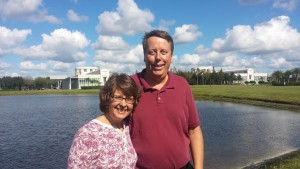 Hi! Thanks for your interest in Steve and Rochelle Clark and the ministry we have with Cru. We work to recruit and send out new missionaries with Cru in the US, to nations all over the world, and at Cru's World Headquarters in Orlando, FL.
We got involved with Cru while we were at college, at SMU and Penn State respectively. After joining the staff of Campus Crusade for Christ, now known as Cru, we each went as singles to Japan to help share the gospel with students in Tokyo during the early 80's.
We met there, where our housing was right next to each other, and rode the trains in to campus each day. Steve started leading Rochelle around then and she's been following him ever since, haha! We got married after a year and a half of dating and eventually had 4 kids, all made in Japan.
We had great delight in the ministry in Tokyo and stayed 23 years. Our work ranged from campus ministry, Jesus film ministry, to leading and caring for staff members from many different countries.
We started this blog on September 1, 2006 to keep family, friends, and partners up to date on what is going on with us, first in Japan and now Florida! We moved back to the US in 2007 and have been serving the staff getting ready to go into ministry internationally, and at Cru's headquarters in Orlando, ever since. Check out our Sending and Recruiting Vision!