is God really there?  Yes!
faintest traces
Man is so great that his greatness appears even in knowing himself to be miserable. A tree has no sense of its misery. It is true that to know we are miserable is to be miserable; but to know we are miserable is also to be great. Thus all the miseries of man prove his grandeur; they are the miseries of a dignified personage, the miseries of a dethroned monarch! What can this incessant craving, and this impotence of attainment mean, unless there was once a happiness belonging to man, of which only the faintest traces remain, in that void which he attempts to fill with everything within his reach?
-Pascal
the really foolish thing to say
I am trying here to prevent anyone from saying the really foolish thing that people often say about Jesus: "I'm ready to accept Jesus as a great moral teacher, but I don't accept His claim to be God." That is the one thing we must not say. A man who was merely a man and said the sort of things Jesus said would not be a great moral teacher. He would either be a lunatic–on a level with the man who says he's a poached egg–or else He would be the Devil of Hell. You must make your choice. Either this man was, and is, the Son of God: or else a madman or something worse. You can shut Him up for a fool, you can spit at Him and kill Him as a demon; or you can fall at His feet and call Him Lord and God. But let us not come with any patronising nonsense about His being a great human teacher. He has not left that open to us. He did not intend to.
-C. S. Lewis
What if you were born without arms and legs?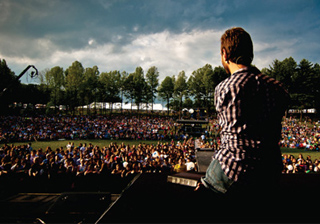 Nick Vujicic – Life Without Limits
Paul Harvey's on-air prayer
"Heavenly Father, we come before you today to ask your forgiveness and to seek your direction and guidance. We know Your Word says, 'Woe to those who call evil good,' but that is exactly what we have done. We have lost our spiritual equilibrium and reversed our values. We have exploited the poor and called it the lottery. We have rewarded laziness and called it welfare. We have killed our unborn and called it choice. We have shot abortionists and called it justifiable. We have neglected to discipline our children and called it building self esteem. We have abused power and called it politics. We have coveted our neighbor's possessions and called it ambition. We have polluted the air with profanity and pornography and called it freedom of expression. We have ridiculed the time-honored values of our forefathers and called it enlightenment. Search us, Oh God, and know our hearts today; cleanse us from every sin and set us free. In Jesus name, Amen!"
-Commentator Paul Harvey aired this prayer on his radio program, "The Rest of the Story," and received a larger response to this program than any other he has ever aired. With the Lord's help, may this prayer sweep over our nation and wholeheartedly become our desire so that we again can be called 'One nation under God.'
Thomas Jefferson's thoughts…
"When we get piled upon one another in large cities, as in Europe, we shall become as corrupt as Europe."
"The democracy will cease to exist when you take away from those who are willing to work and give to those who would not."
"It is incumbent on every generation to pay its own debts as it goes. A principle which if acted on would save one-half the wars of the world. "
"I predict future happiness for Americans if they can prevent the government from wasting the labors of the people under the pretense of taking care of them."
"My reading of history convinces me that most bad government results from too much government."
"No free man shall ever be debarred the use of arms."
"The strongest reason for the people to retain the right to keep and bear arms is, as a last resort, to protect themselves against tyranny in government."
"The tree of liberty must be refreshed from time to time with the blood of patriots and tyrants."
"To compel a man to subsidize with his taxes the propagation of ideas which he disbelieves and abhors is sinful and tyrannical."
circa 1802


"I believe that banking institutions are more dangerous to our liberties than standing armies. If the American people ever allow private banks to control the issue of their currency, first by inflation, then by deflation, the banks and corporations that will grow up around the banks will deprive the people of all property – until their children wake-up homeless on the continent their fathers conquered."
beyond the things of earth…
"The truth is that nothing in this earth can finally satisfy us. Much can make us content for a time but nothing can fill us to the brim. The reason is that our final joy lies "beyond the walls of this world," as J.R.R Tolkien put it. Ultimate beauty comes not from a lover or a landscape or a home, but only through them. These earthly things are solid goods, and we naturally relish them. But they are not our final good. They point to what is higher up and further back…Even if we fall deeply in love and marry another human being, we discover that our spiritual and sexual oneness isn't final. It's wonderful, but not final. It might even be as good as human oneness can be, but something in us keeps saying "not this" or "still beyond"…What Augustine knew is that human beings want God…God has made us for himself. Our sense of God runs in us like a stream, even though, because of sin, we divert it toward other objects. We human beings want God even when we think that what we really want is a green valley, or a good time from our past, or a loved one. Of course we do want these things and persons, but we also want what's behind them. Our inconsolable secret, says C.S. Lewis, is that we are full of yearnings, sometimes shy and sometimes passionate, that point us beyond the things of earth to the ultimate reality of God."
– Cornelius Plantinga Jr. (President of Calvin Theological Seminary)
Tozer's view on money…
As base a things as money is, it can be transmuted into everlasting treasure. It can converted to food for the hungry and clothing for the poor. It can keep a missionary actively winning lost men to the light of the Gospel and thus transmute itself into heavenly values. Any temporal treasure can be transmuted into everlasting wealth. Whatever is given to Christ is immediately touched with immortality.
Getting back to basics?
"The budget should be balanced, the Treasury should be refilled, public debt should be reduced, the arrogance of officialdom should be tempered and controlled, and the assistance to foreign lands should be curtailed, lest Rome become bankrupt. People must again learn to work instead of living on public assistance."
– Cicero , 55 BC
"We trained hard, but it seemed that every time we were beginning to form into teams, we would be reorganized. I was to learn later in life that we tend to meet any new situation by reorganizing; and what a wonderful method it can be for creating the illusion of progress while producing confusion, inefficiency, and demoralization."
– Petronius , 66 A.D.